The story of Suede splits into two acts, when the first version of the band with guitarist Bernard Buttler and the second version of the band with Butler gone and replace by Richard Oakes, as well as keyboardist Neil Coding. Suede released two album in their first version of the band, Dog Man Star (1994), it was the last Suede album to feature guitarist Bernard Butler, due to growing tensions between Butler and singer Brett Anderson ending with Butler leaving the band before the album was completed. And when the band reconstituted after its messy split with its guitarist, Anderson was in no mood to make another Dog Man Star. Although it did not sell on the same scale as their chart-topping debut Suede (1993), Dog Man Star reached number three on the UK Albums Chart. *(pitchfork)

And the second version of the band was started by the third album "Coming Up", it was the band's first album since the departure of guitarist Bernard Butler, who was replaced by Richard Oakes. Also added to the band was keyboardist Neil Codling. basically, it can be named the new line up of Suede in the second version of the band. Coming Up, the perfect title for the follow-up to the dark and brooding Dog Man Star, since the commercial fortunes of Suede were about to be dramatically revived. This was no ironic title. The band had recorded a hit album and it would be named appropriately.
Many 'commentators' predicted that Suede would have no future without Butler, but Anderson was having none of it. Relieved to have finished touring Dog Man Star with the 'wrong' version of Suede, he was very keen to get on with the next album. He wrote some songs alone, some with new guitarist Richard Oakes and even collaborated with Neil Codling on two tracks (Starcrazy and The Chemistry Between Us). Coming Up is all about simplicity. The album's 'keep it simple' approach was also reflected in Brett's lyrics. The literary lines of Dog Man Star were gone and Coming Up adopts a more traditional pop sensibility.

Suede's final album, A New Morning, is almost an afterthought in the context of the band's whole career. Still, A New Morning is not a bad record, and it sent the band out on a hopeful note that was strikingly at odds with much of what had preceded it.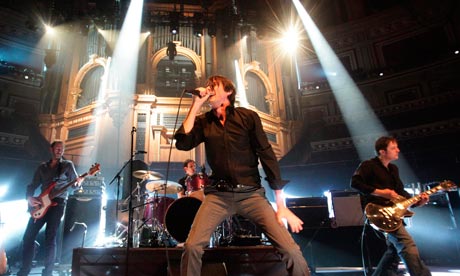 Long story short, their last concert at the London Astoria on 13 December 2003 was a two-and-a-half hour marathon show, split into two parts plus encore. Anderson made an announcement, saying: "I just want you to know. There will be another Suede record. But not yet. yap, it was announced for their vacuum until in the beggining of 2010, exactly on 15 January 2010 Suede play together again. Shortly after the reunion, Suede played a short European tour during late November into December covering Spain, France, Belgium, Sweden, Netherlands and Germany. In June 2011, following on from the success of the recently released "Best Of" album, the band released remastered and expanded editions of all five studio albums. bagus

if you a big fan of Suede, you must have all of their released remastered and expanded editions which include DVD Deluxe Edition in each album released remastered.